Hi!  How have you been?  Good I hope?  Me?  Just living the dream.  Living the dream so good that I've completely abandoned the blog. (again)  I mean, technically, this was a "construction blog" and the house is pretty much done, so I didn't really feel the need to update until we got the "grand reveal" pics.  Speaking of, that is sort of a sore subject.  A part-time photography wanted to take a shot at it (pun intended), came out with his camera and tripod, and took a bunch of pics.  Unfortunately, his sensor was dirty and it got all over his images.  He was going to clean them up in photoshop, but I guess life got in the way and he never got back to us.  He did send us one pic, which only made us salivate for more….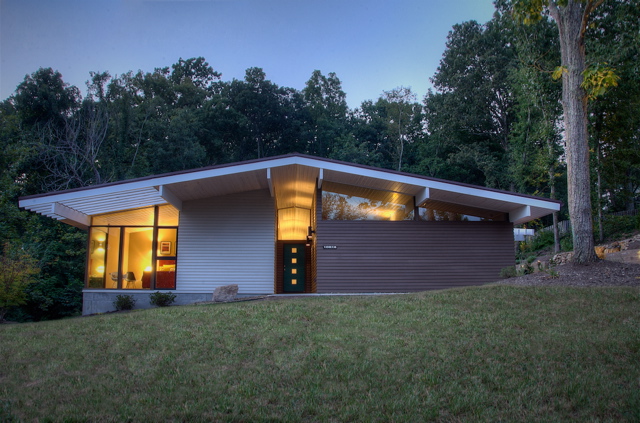 Sadly, the twin oak, which was a part of the original site plan, didn't survive the build and had to be cut down and grinded to a stump.  We plan to replace it with three Dogwoods, which should look great in that spot, and we don't have to worry about it falling down and splitting our house into two pieces.  Anyway, I'm in the process of setting up interviews with professional photographers so the grand reveal IS still coming, someday, which brings me to my next point;
The Architect is coming!
Amazingly, we built this architect designed house with literally only emails and pics flying back and forth.  Master Architect, Robert Nebolon, has never set foot in it, and thanks to him winning an HGTV design award, he's flying out to visit!  We are both excited and terrified!  There are a couple of decorating issues that we've put off due to time and money constraints that we need to take care of ASAP, along with the landscaping, which is in shambles.  While there will be some photos coming out of the HGTV shoot, I'm hoping to coordinate the professional photographer around that same time, if only because the house will be in tip-top shape.
It's just a clock…
I can't tell you how many man-hours were spent trying to find a clock for the dining room/playroom Eichler wall.  I can't tell you how many mid-century inspired clocks I looked at, but it was in the high hundreds.  What I can tell you is that, when we finally agreed on the winner, I did an end zone celebration that would have made Cam Newton blush.  It is a "classic wooden sunburst clock" by Telechron.  Yes, I wish it was a little bit bigger, but 95% of what we looked at was between 18.5″ and 19.5″ and the bigger stuff didn't look near as good.  So here it is.  Our beautiful clock: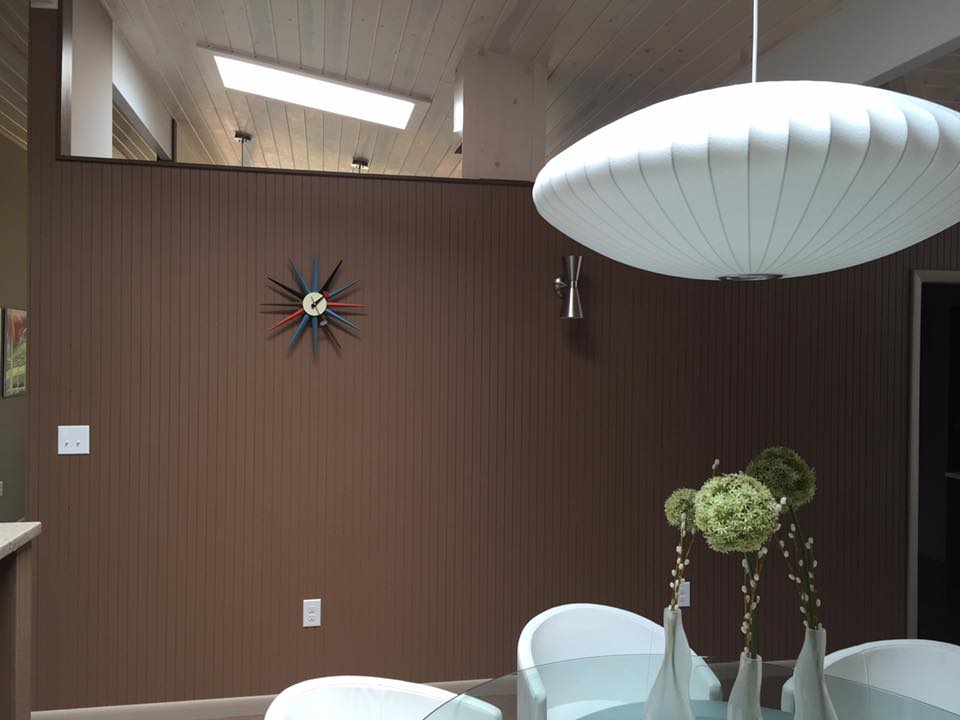 The Architect's visit is scheduled for the last week of this month.  After that, we should have the pro photographer out for the grand reveal pics.  A few weeks after the grand reveal I will try to get the last two chapters of this saga written; "What we loved, what we would change" and "What It cost a.k.a. Weez broke as hell but we have an amazing house!".