It was a ridiculously busy week!  So much so that my pics kinda suck, and I can't even think of a clever title.  Continuing from the week 31 "No stain, No gain" blog I FINALLY finished all the main level doors yesterday.  What a fricking job!  We still have five more doors downstairs, but compared to the main level, that should be cake.  Speaking of which, I have had more than my fair share thanks to our Son's fifth birthday, during the middle of all of this.  The big thing this week, and not very photographable, was the beautiful cool air coming from the Frigidaire IQ units.  We have temp thermostats while we wait for our network setup to install the NEST units.
Also, we FINALLY got locks on all the doors.  With the plywood covering the fixed glass openings while we wait for fabrication the house finally feels "somewhat" secure.
Other highlights:
– The master bath vanities arrived.  Still in boxes, haven't seen the them yet.
– The flooring has arrived!  About 100 boxes!
– Trim work continued
– The half-wall got some work (no pics sadly…)
– The fascia gutter got extended
– Kitchen work continued
On to the limited pics.  I'll do better next week!!
Cork flooring has arrived!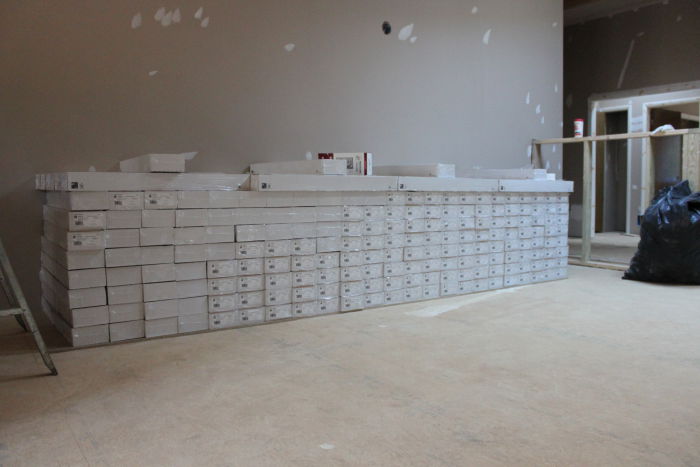 Bathroom vanities have arrived as well. Don't they look GREAT???  Ok, maybe hard to tell right now…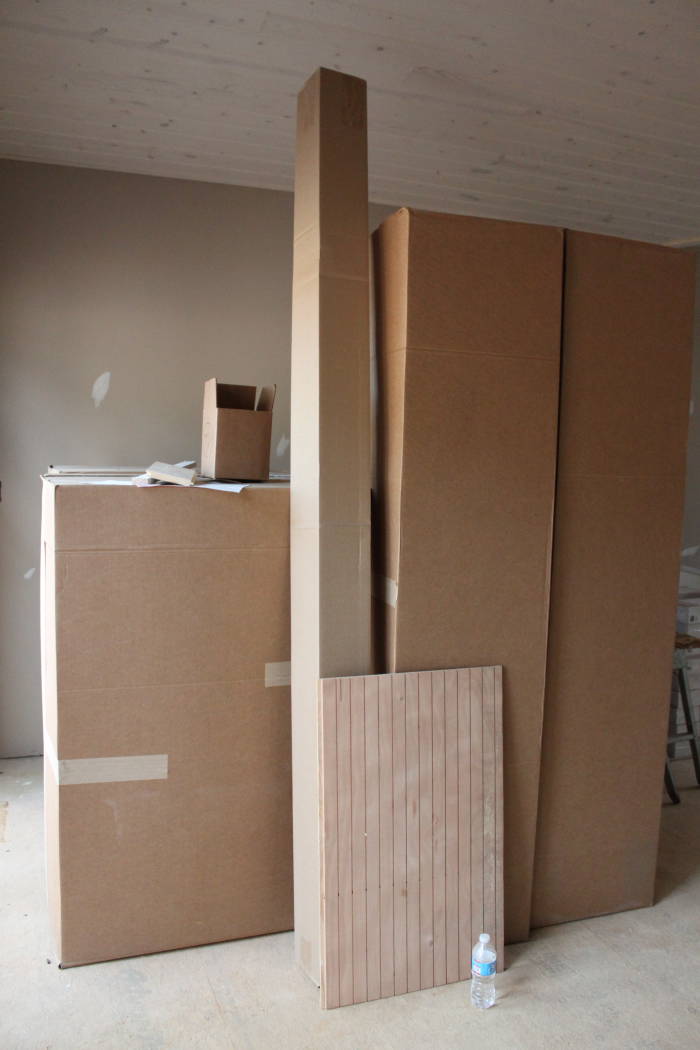 The patio door received a passage handle and Kwikset electronic code deadbolt.  This way, we can keep our subs working when we're not there and the contractor is on his SECOND vacation…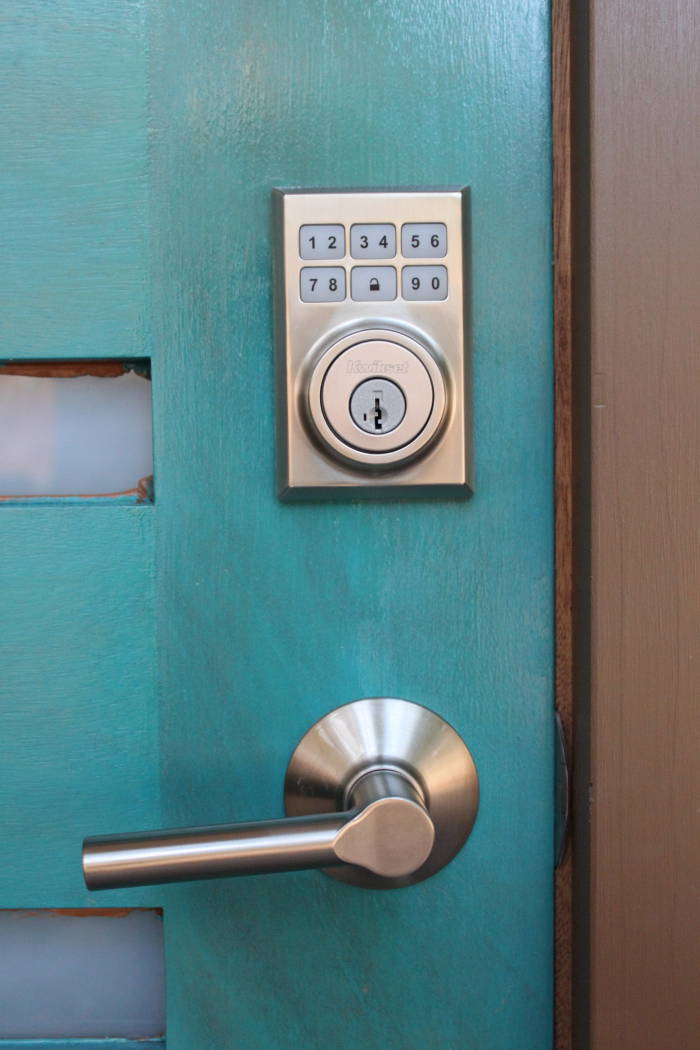 The patio door also received the Turquoise stain.  We think it looks GREAT against the Chestnut brown!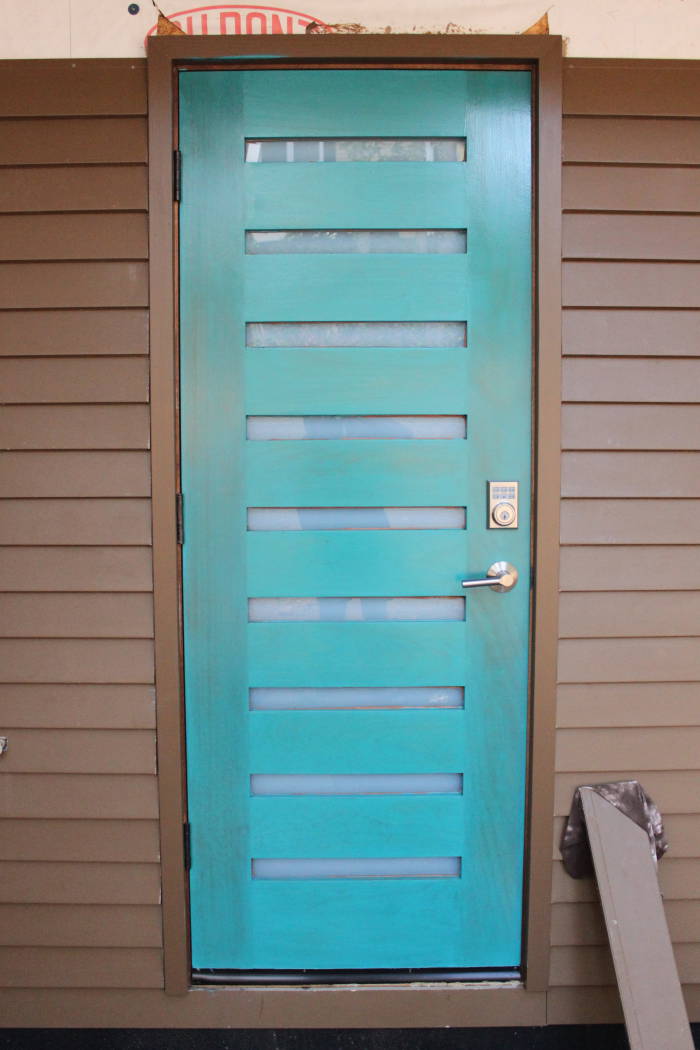 Front door received a mid-century style doorknob.  Sadly, no escutcheon yet.  Rejuvenation screwed us with an infinite backorder and no communication so we canceled the order and are back to looking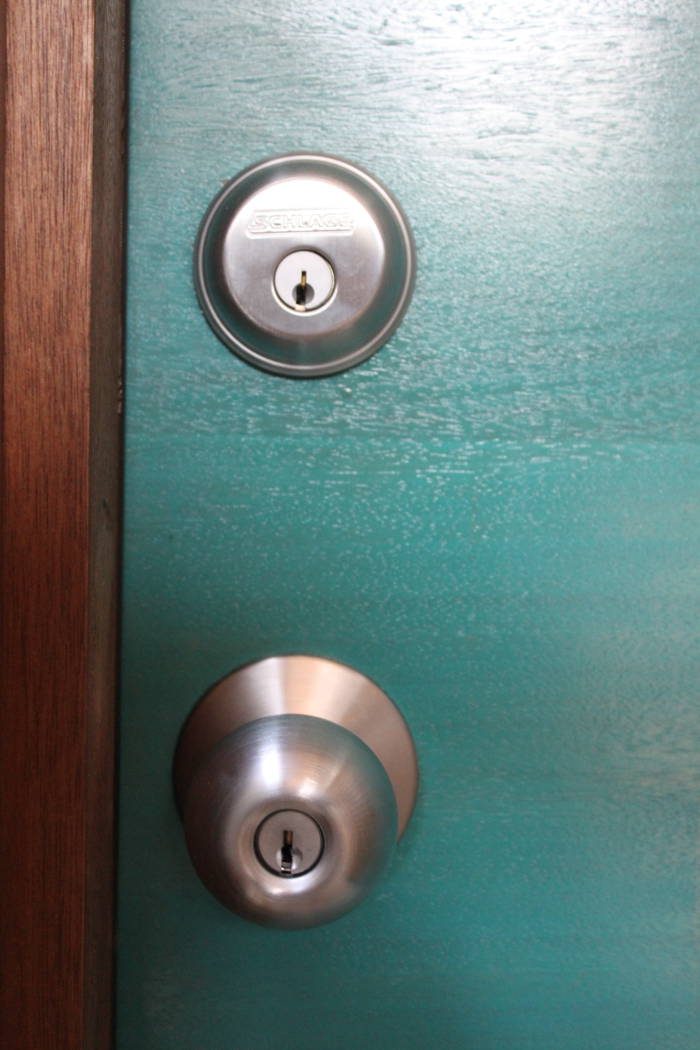 Front door with new door handle and deadbolt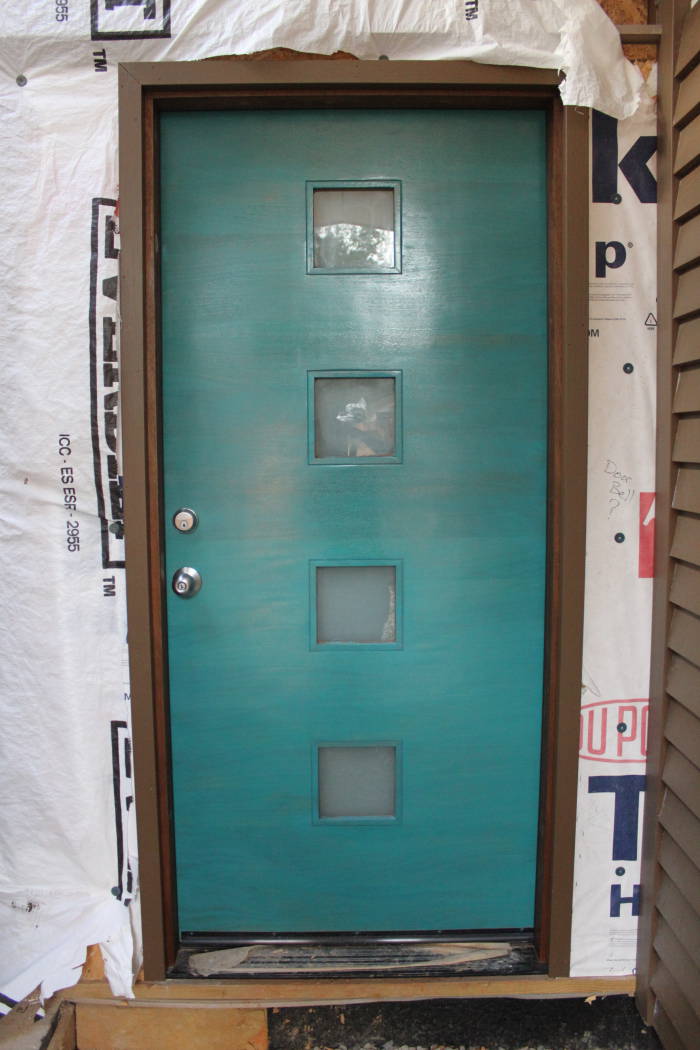 Another pic of the massive stack of Millstead cork boxes ready to go in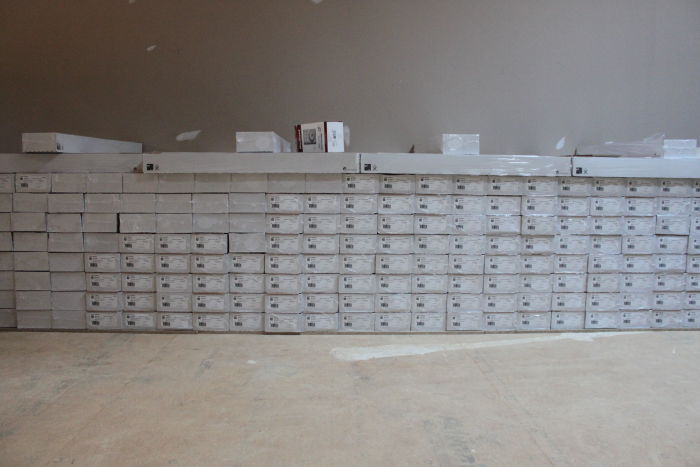 One of the many beautiful birch doors that received two coats of poly, front and back
Flip side of front door with new hardware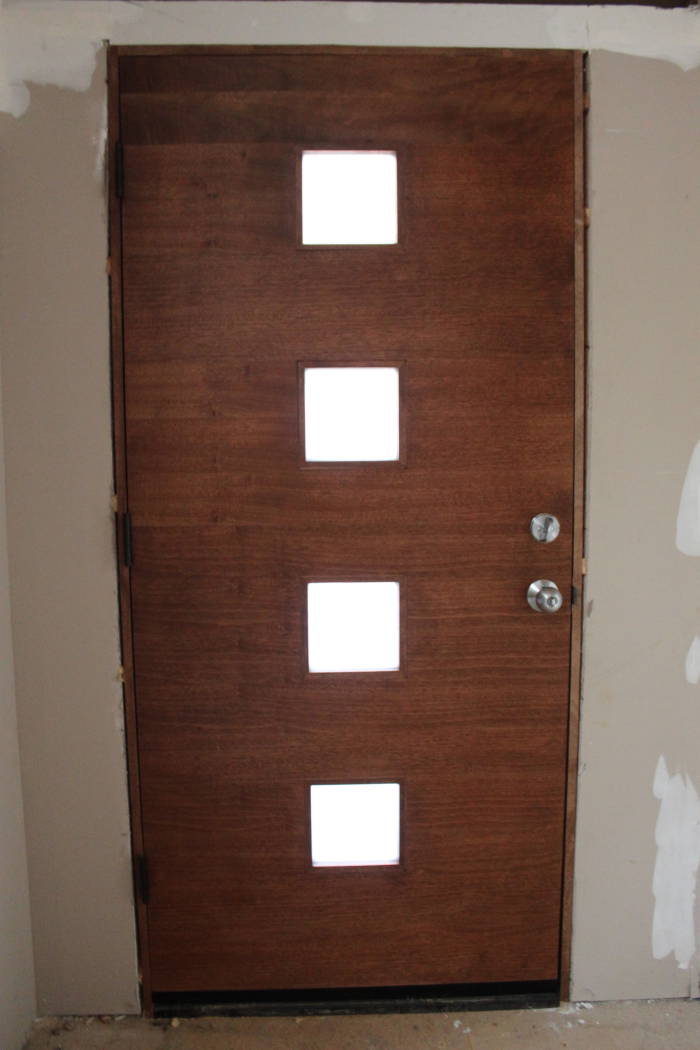 Cabinets got hung in kitchen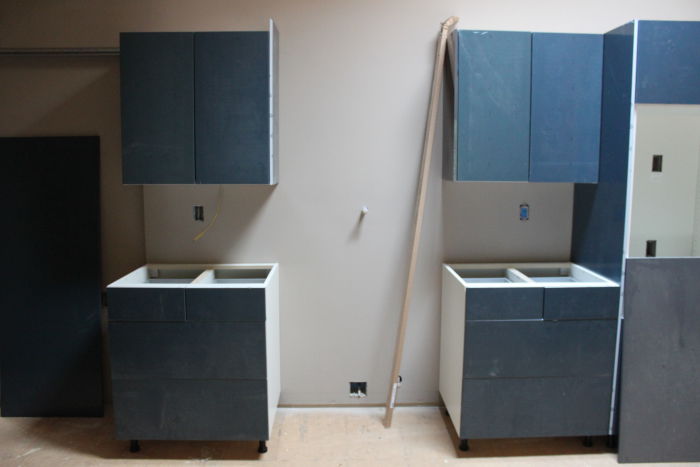 Hole in middle is for free-standing range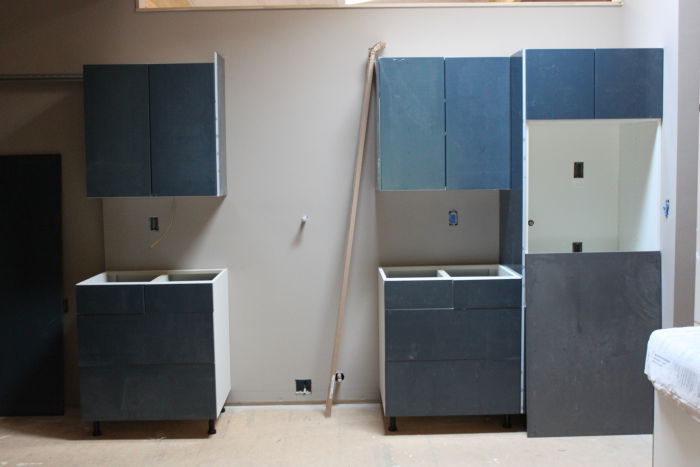 Side view of kitchen.  Can't seem to keep the camera level these days…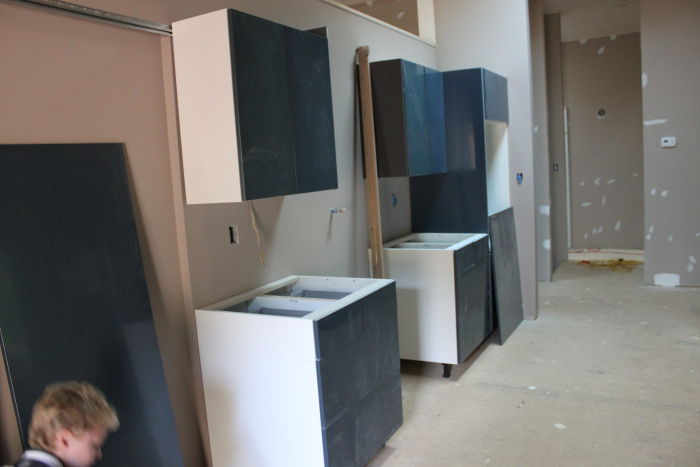 Baking and pantry area coming along nicely.  Everything needs to slide about three inches to the left though…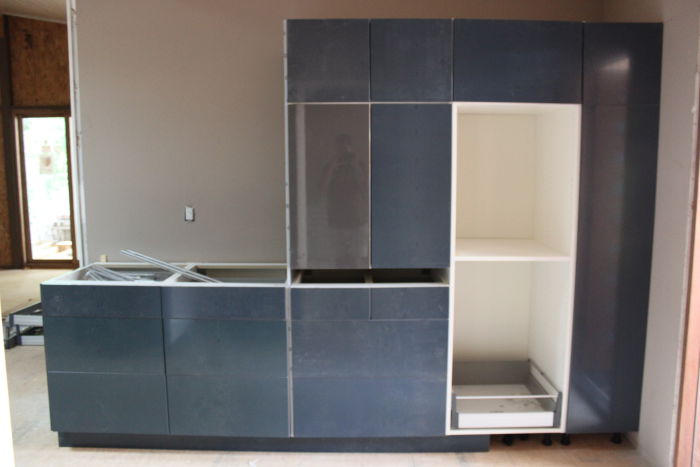 Closeup of cork detail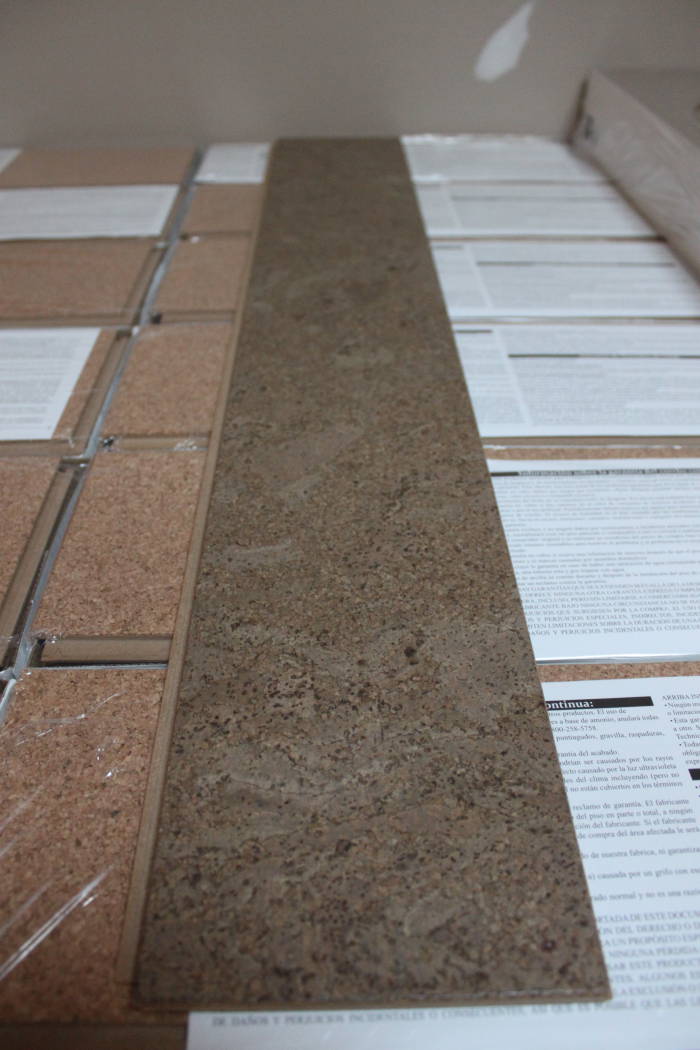 Up next:
– Flooring install starts Monday!
– Kitchen install continues
– Countertop fabrication begins
– Trim work continues
– Patio and landscaping work begins
– Stair install begins
– Laundry install starts by the wifey and I
– Painting prep continues by the wifey and I
– Master bath floor gets grouted
– Master bath vanities get installed