I always seem to be a little early with the post names.  Last week was "Let There Be Light", and there was light, but only from about two fixtures.  Now ALL of them are up.  This week, it's "Cooking With Gas" because our range got installed, and KUB swung by and set the meter.  Unfortunately, Rocky Top Air has not CONNECTED the meter to the house lines so we "really" can't cook with gas…yet.  Those pics will come next week when I have a new post titled "We're IN!" when we "really" aren't completely moved in.
Oh well, week 36 saw our fixtures and plugs get activated, the garage poured, and the stairwell trimmed out, though not completely.  Of course, I forgot to take pics of the stairwell.  (maybe I'll add them later and edit this so no-one will know)  The plumber also connected the kitchen sink and the master bath faucets AND the toilets.  I have yet to take my first poop in the new house but I will certainly document it here when I do!
On to the pics….
The beautiful George Nelson bubble lamp makes a statement in the dining room.  It will shine a soft glow over our round glass table and six white leather chairs.  Keeping the plastic wrap on until the dust settles a little more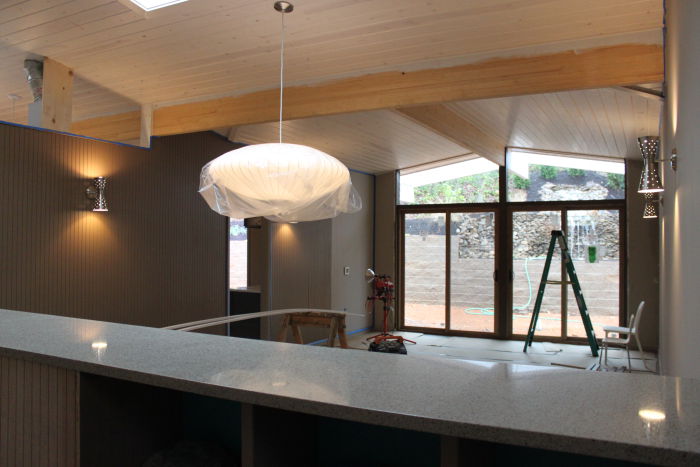 Hard to photograph with my novice skills but the skylights turned out GREAT after caulking, wood putty, prime, and a coat of Ivory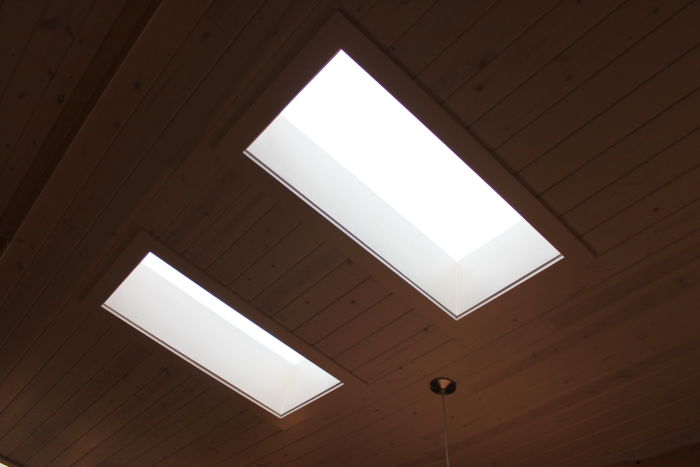 Another shot of the skylights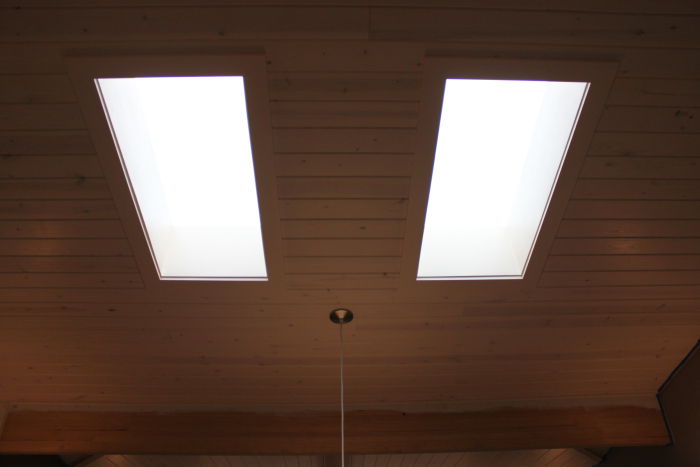 Yes, this house is full of MCM cliche's (I'm not bothering finding the accented "e") but we wouldn't have it any other way.  LOVE the Spectre replicas we got off of Etsy.  If you look close you can see the bulbs popping out of the top.  Pretty tacky.  The top is shorter than the bottom and TOO short for the CREE LED bulbs.  I find this out after I invested several hundred bucks.  Luckily, Home Depot carries an ECO smart LED with a much shorter profile.  I will replace the top ones with these shorter models as time and money allows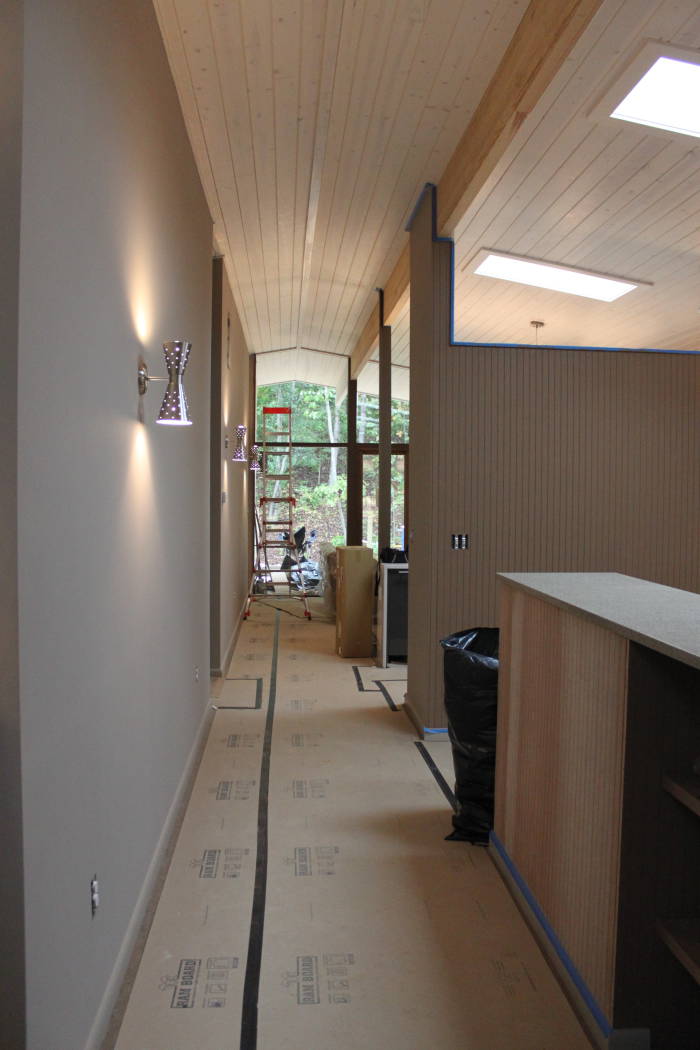 Another view of the MCM sconce.  It may be a mid-century design but a timeless classic nonetheless.  The light wash on the walls combined with the pinholes create a stunning effect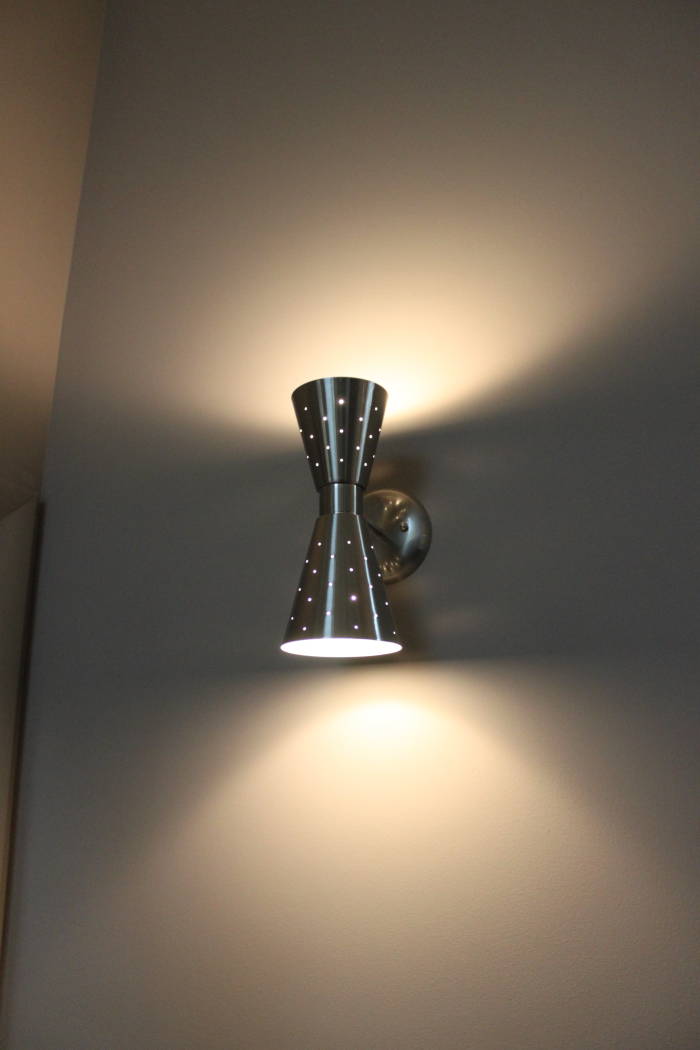 These Jonathan Adler sconces look really cool.  Unfortunately, they REALLY SUCK.  Oh well, I'll find a decent LED candelabra base and replace the ONLY incandescents in the house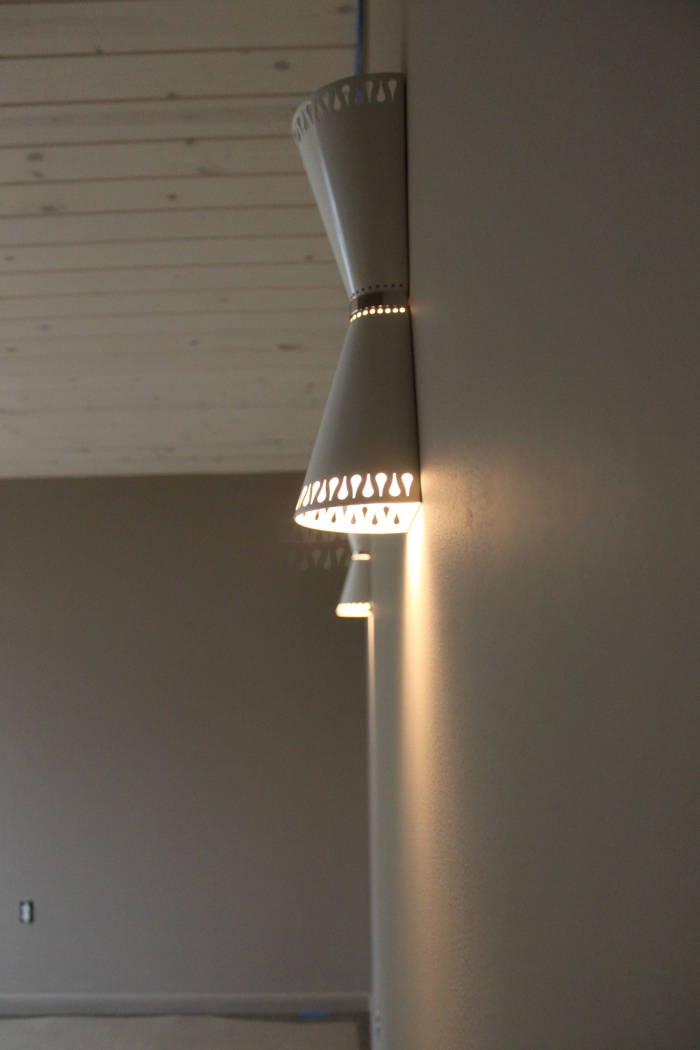 All lighting fixtures got installed last week.  Makes a huge difference when painting at night, which we are doing EVERY night.  Guard rail is being redone.  Trim guy took it upon himself to build us a nice country farmhouse version…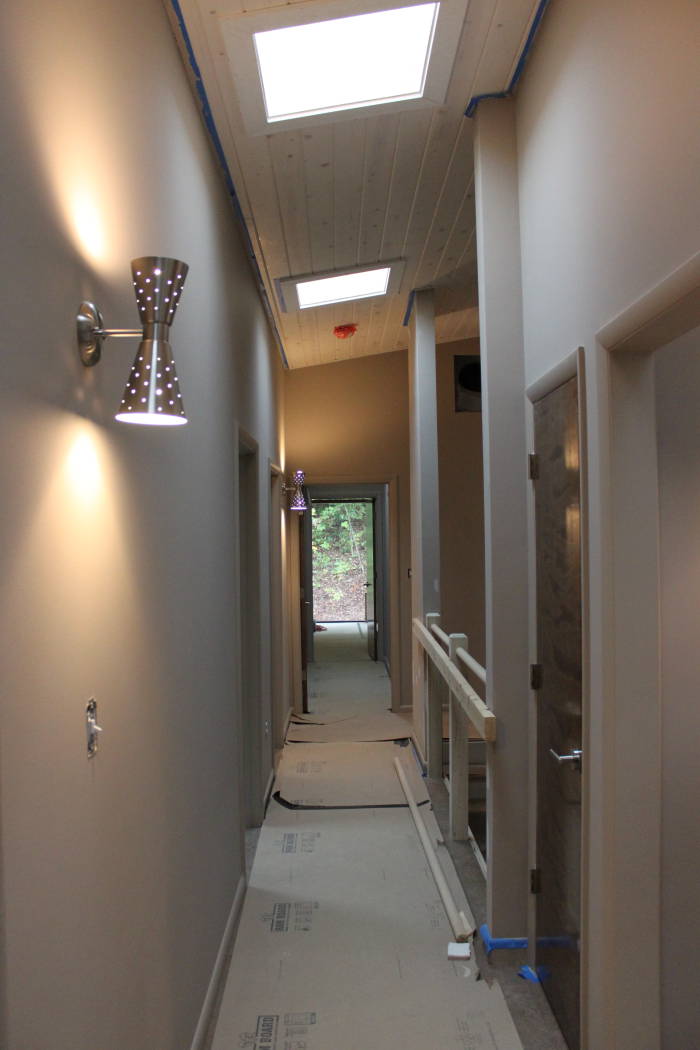 Glass and metal sconces in Liam's bedroom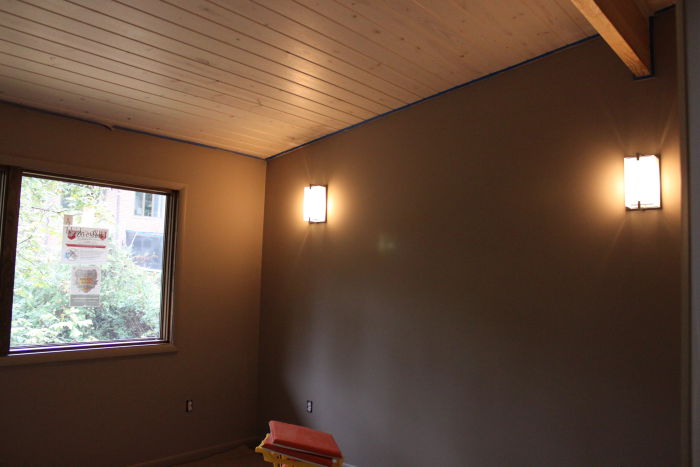 Even the closets are full LED.  Liam's closet get's a 40″ bar strip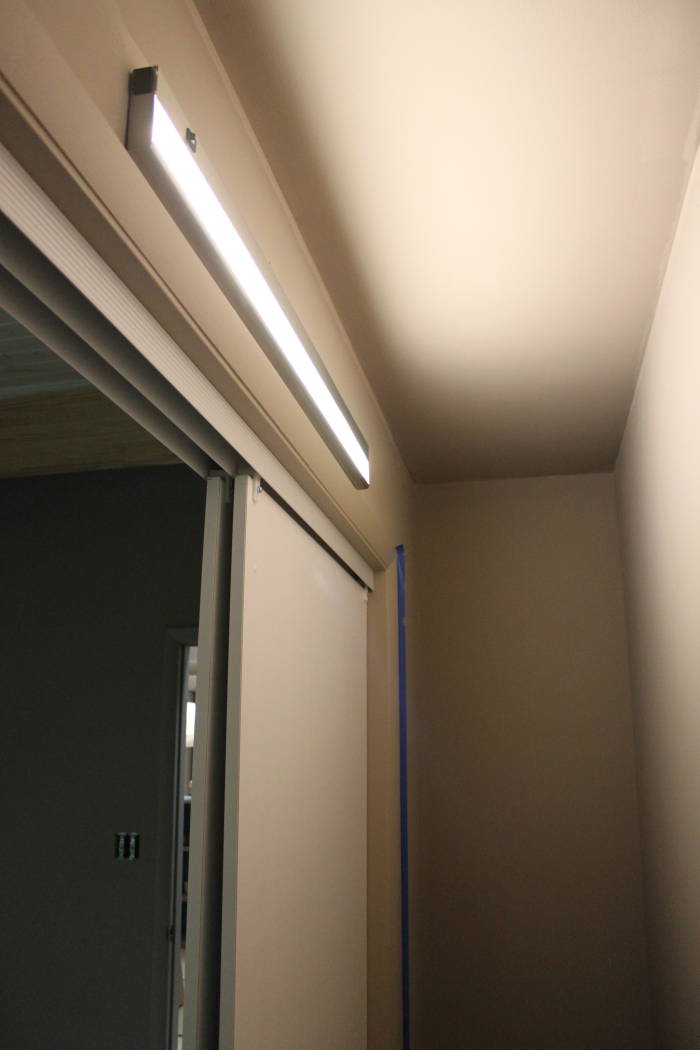 My favorite design in the house.  We got the wall to wall shelf idea from a bathroom on Pinterest then doubled it.  We figured Liam could put all his toys on the bottom shelf for now and as he grows up he can start using the top one for his shampoo, soap, etc.  Initially, the plan called for a window in the shower, which would have prevented this design so we deleted it.  Of course, now we have a dark bathroom so I found some cool waterproof LED light bars to go in the shelves to light them up.  The tile is still filthy so it doesn't show as well as it's going too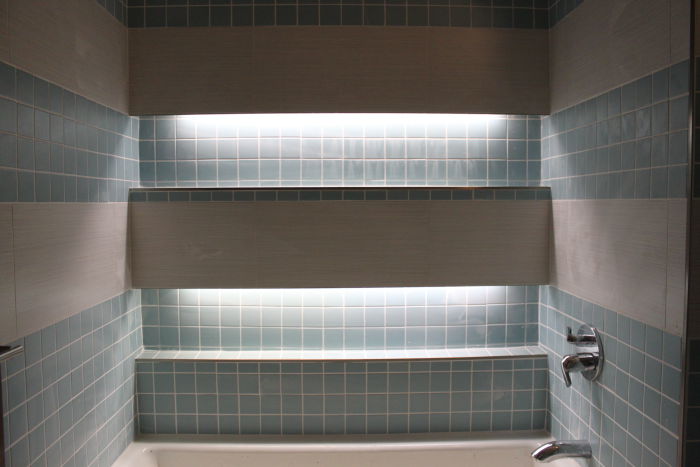 Cirkel design got our Ikea high gloss cabinets put together.  So much storage in such a small space.  We made a measuring error so two 24″ cabinets wouldn't fit.  They are going to Atlanta this week to pick up an 18″ base cabinet.  I thick wood countertop will be used for folding clothes.  I wooden dowel will go on the hardware on the wall to hang clothes after folding.  We installed two huge LED sconces horizontally on the south wall, and also added an LED strip for under the shelf to have some folding light.  I really think we maximized the form and function in this smallish space.  Vaulted T&G ceilings make the room feel bigger than it is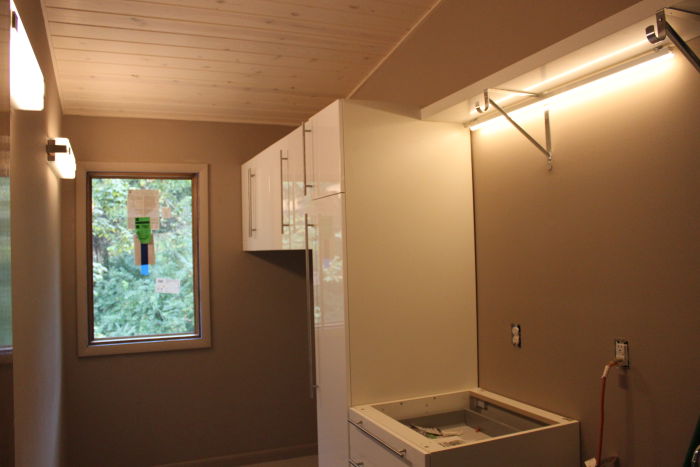 Another shot of the huge fixtures.  At some point I'll create a links page for where to purchase everything we bought online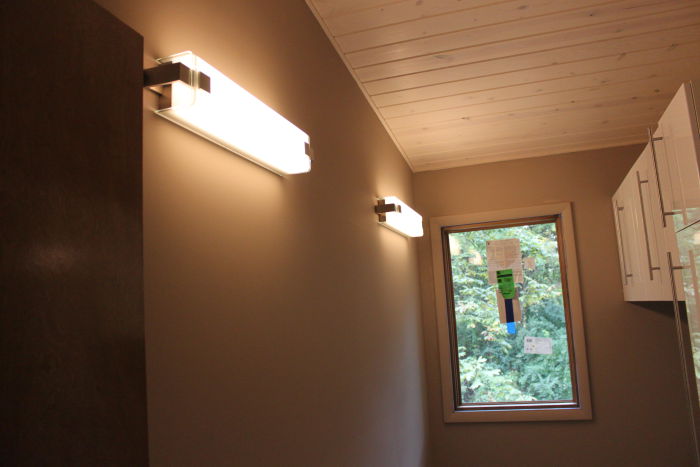 These things put out an incredible amount of warm 2700k light, but barely ANY heat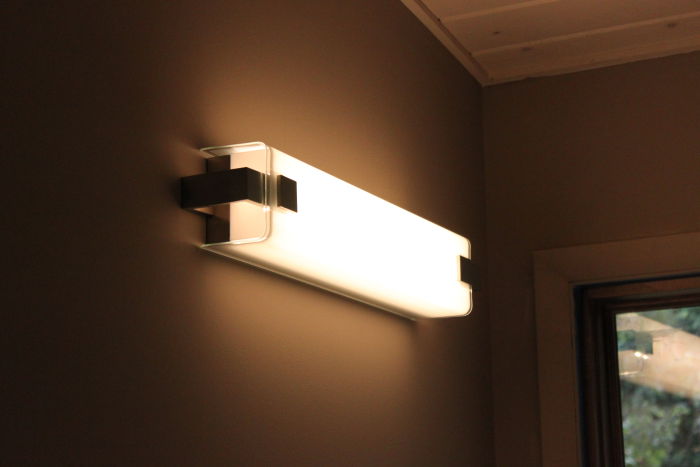 The stunning globe lights in the kitchen.  The architect had this picked out in the plan and they are PERFECT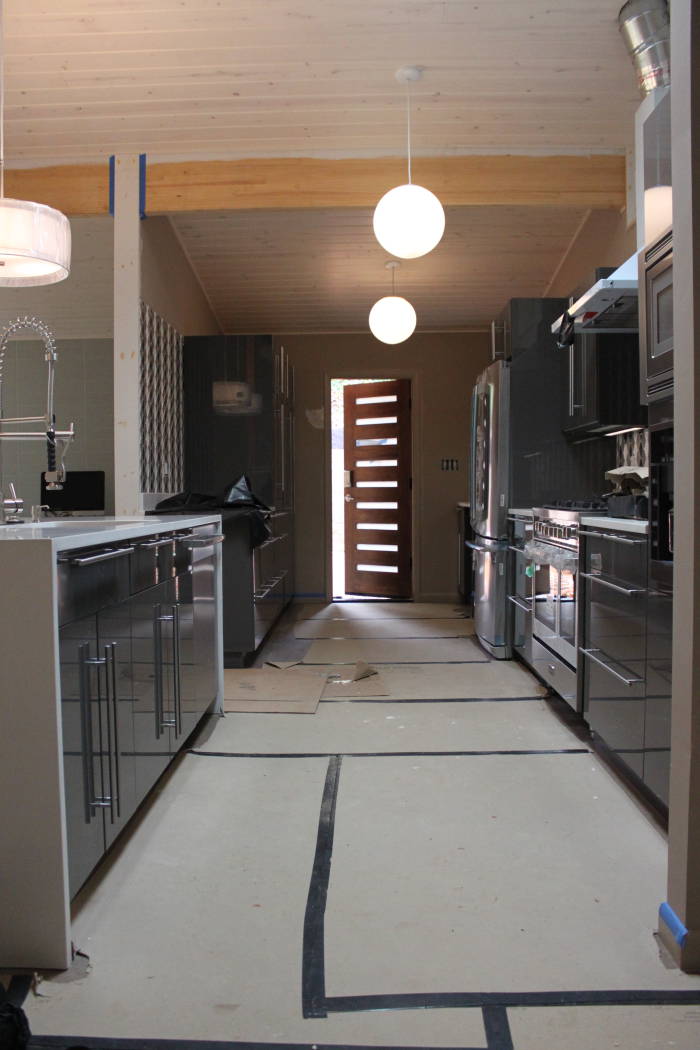 The huge drum lights over the waterfall island got installed.  One of them needs adjusting so they will be at same height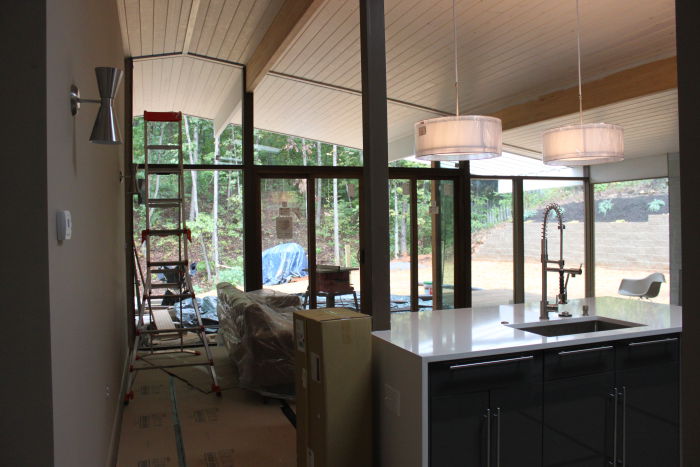 Another shot of the island and "pendants" looking out at the wall o'glass.  The remaining glass piece (far left top) got installed on Monday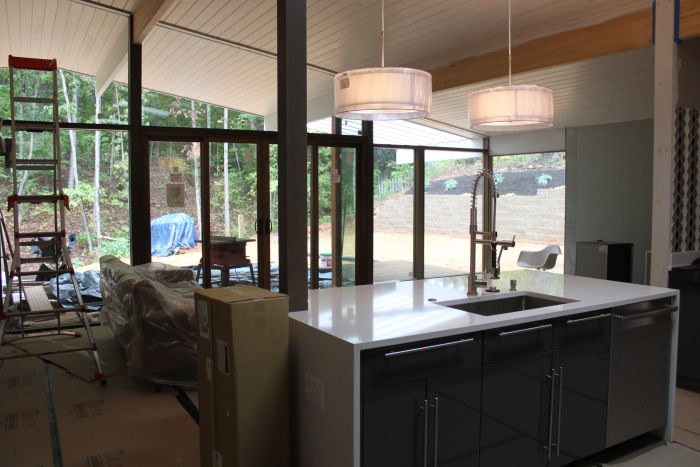 Two LED sconces got installed in the master.  These have a dark bronze finish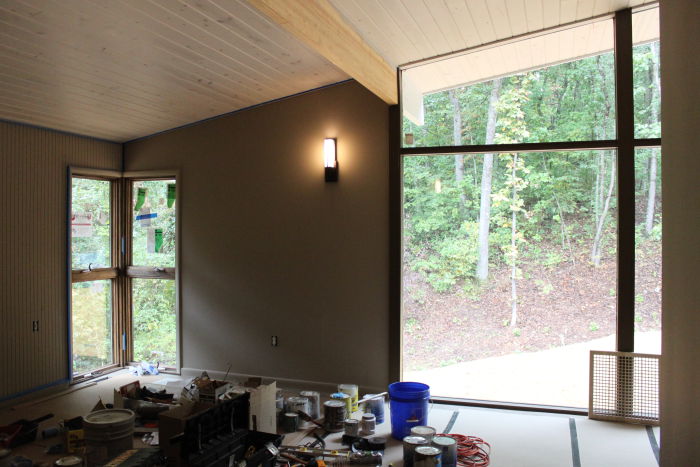 My first experience with in-wall faucets.  Every house I've had the bases around sink mounted faucets always gets so cruddy so quickly.  We can avoid that here.  The trade-off is we'll always have a pool of water at the faucet handle where wet hands touch it.  The dark brown tile is a black hole, but gorgeous.  We'll try to find some light bordered  mirrors to balance it out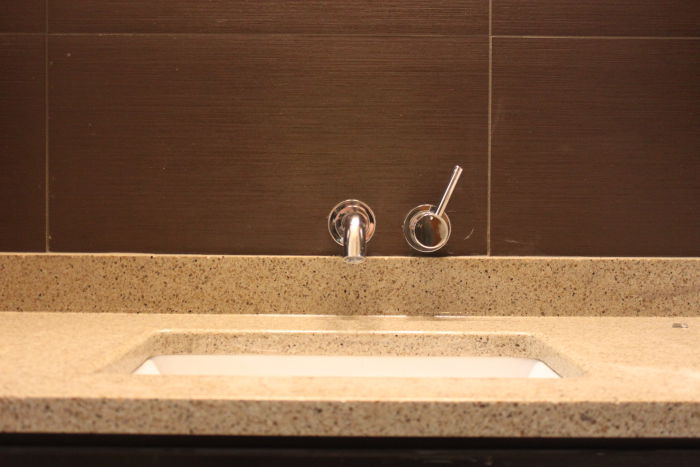 Double sided LED wall sconces got installed above both master vanities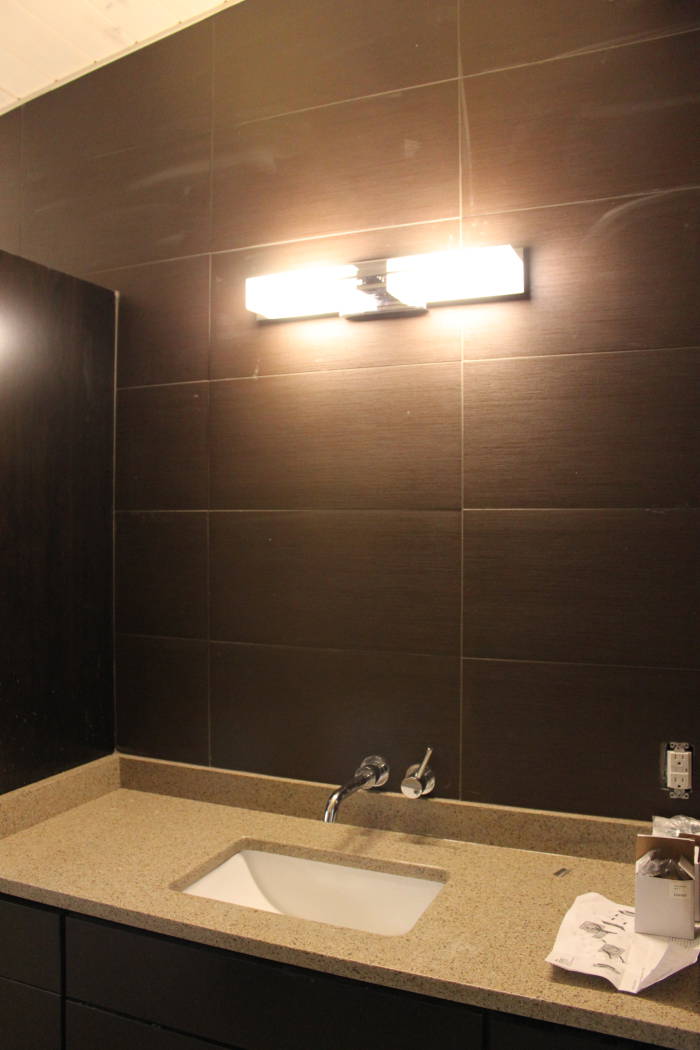 Another shot of the vanities and storage.  The original design called for sleeker, more minimal counters and cabinets, but we just couldn't make the measurements work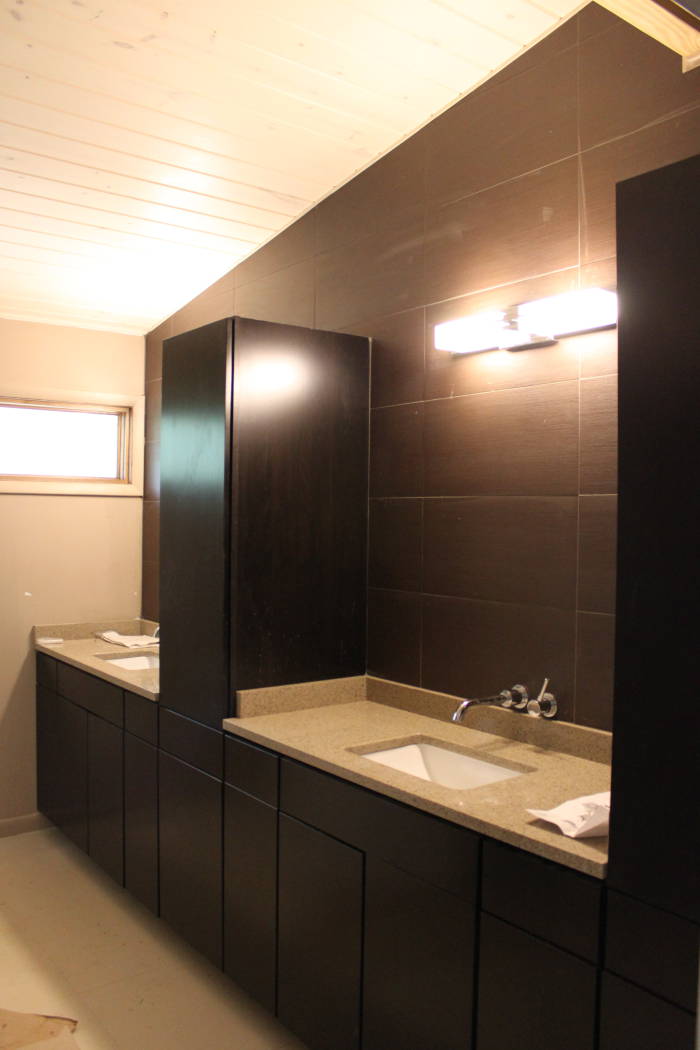 Appliances are INSTALLED!  Below is the microwave and Miele coffee station.  We had a Miele in the old house and the wife loved it, but filling it with water constantly was a pain.  This one is PLUMBED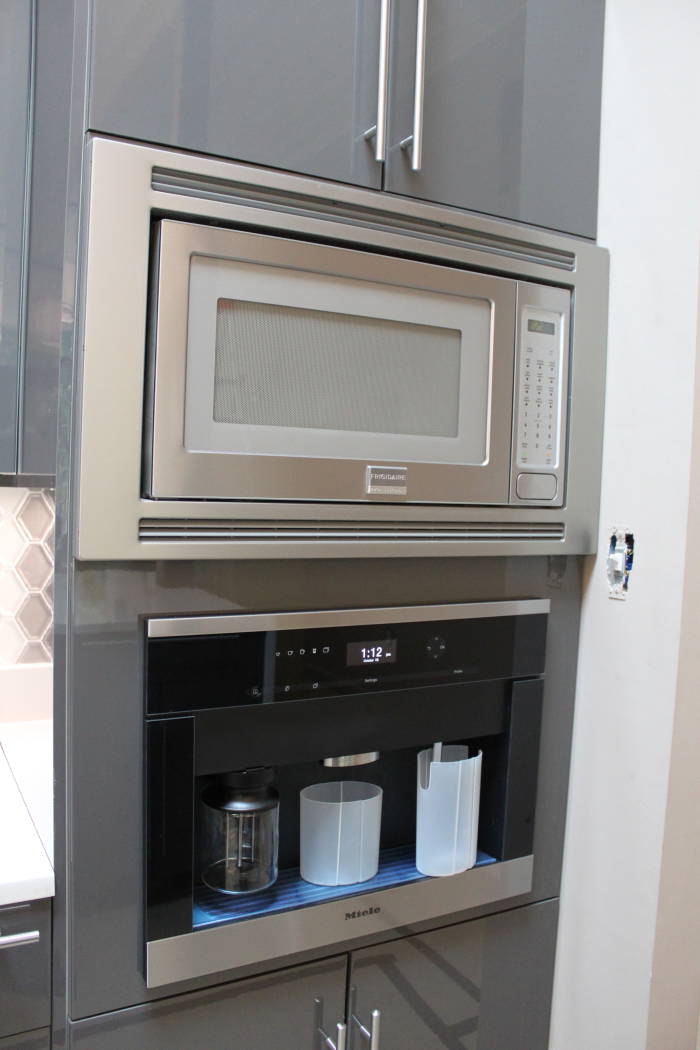 Garage got poured on Friday.  Hard to tell from this pic but the plan called for a 3″ elevation difference between the front and the back so water would drain out of the garage instead of pooling.  Note our contractors sign:  DO NOT ENTER…Don't even think about it….Concrete is set but not sealed…DON'T DO IT….Stop thinking about it and walk away….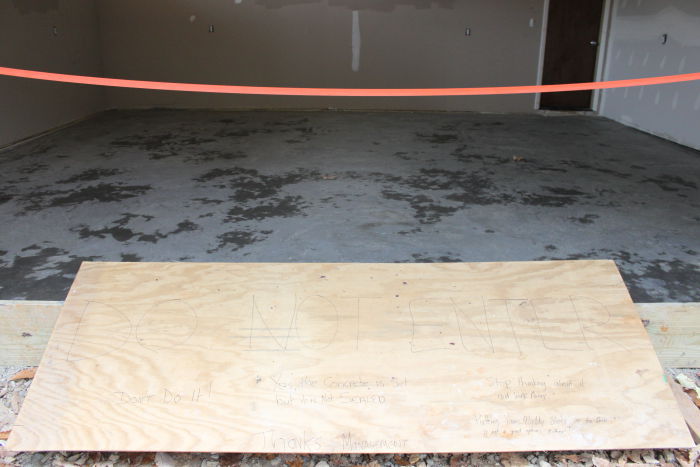 Another sign by a contractor on a rainy, muddy day…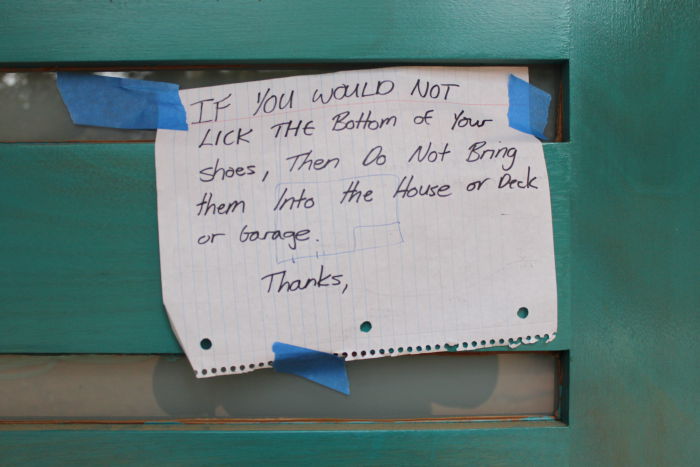 Our new sofa from Hughes sofa from Joybird.  Love it!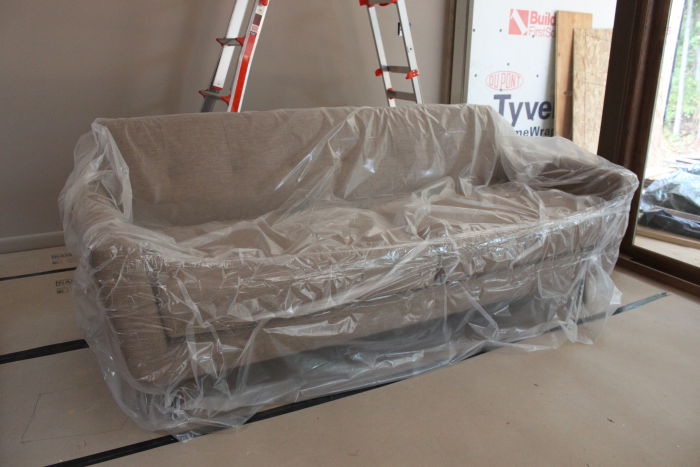 Electrolux fridge got installed.  We had our hearts set on the LG smart fridge until the cabinets starting getting installed.  Then we realized how far it would stick out.  It would have been hard to get around it, much less open the doors without backing into the baking area.  The plan called for a counter depth fridge with cabinet cover panels to give it a built-in look.  I have to admit, it looks really good!  The appliance guys will be back to adjust it.  The architect had the wall flat framed (turning the 2×4″ wall studs on their sides) behind the fridge to really maximize the depth and give room for plug and water supply.  If you are going cabinet depth I highly recommend this method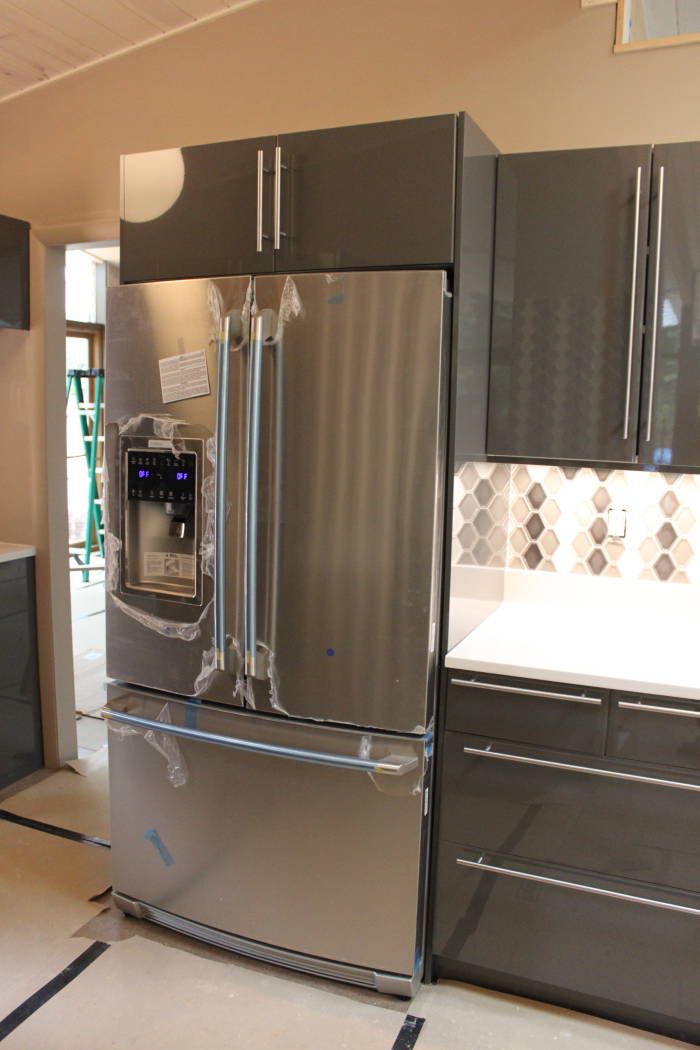 Cooking with gas indeed!  The absolutely BEAUTIFUL Verona range.  The plan called for a cooktop with cabinet mounted double ovens, but we didn't like the idea of losing valuable counter space to those appliances.  With this range we get our double ovens (albeit much smaller ones), get our built-in microwave and coffee maker, and get to keep our countertops for meal preparation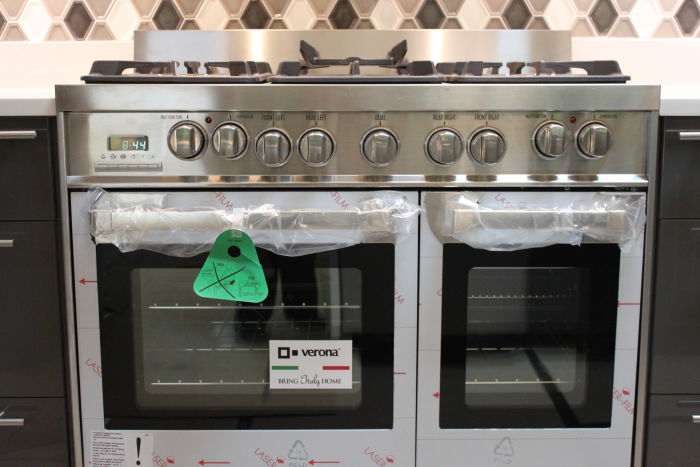 Another look at the range with the newly grouted backsplash and range hood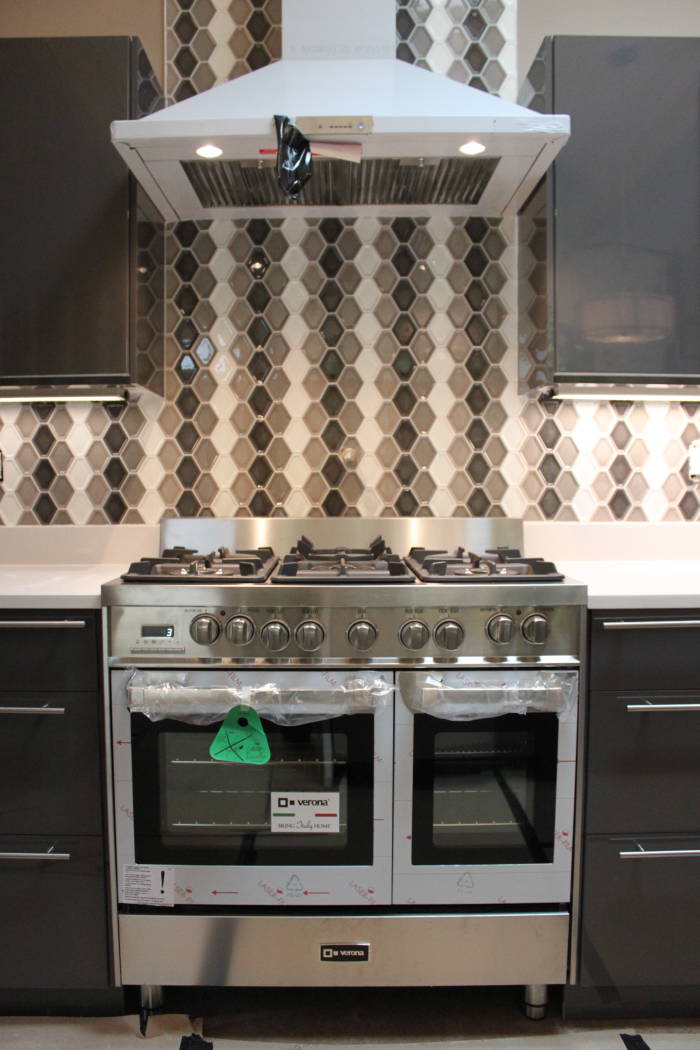 ….And one more from the side because I KNOW you can't get enough! 😉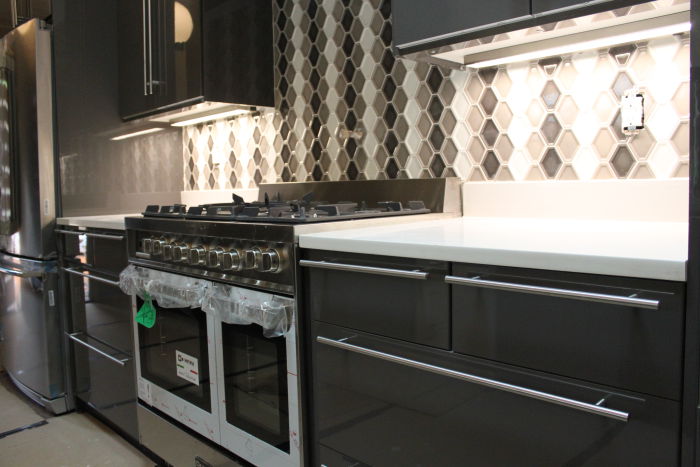 Next/this week:
– Space tub gets hooked up and I take a two hour shower
– Gas gets connected so my two hour shower will be a hot one thanks to the Rinnai tankless water heater
– Guard rail and basement egress step gets installed
– Basement and hallway bath vanities get installed.  Liam's vanity looks amazing…
– Weather permitting, paver work starts.  It's been a monsoon here lately
– Driveway and sidewalk gets formed
– Garage doors arrive for stain and poly.  Oh boy….
– Blower test on Wednesday
– If gas and blower test checks out we get our certificate of occupancy THIS FRIDAY!